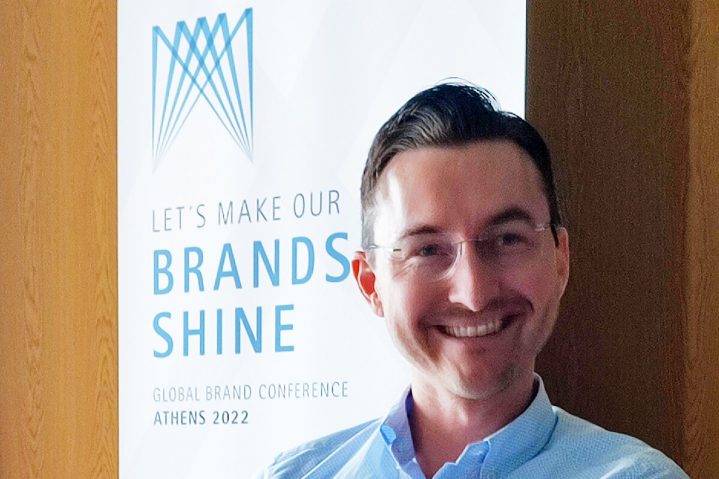 Michael Schmied
Silhouette's Chief Marketing Officer
"Our target is to be the best premium partner for independent Eye Care Professionals"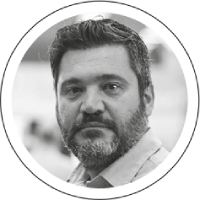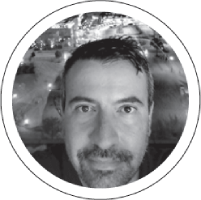 Ιnterview with Vassilis Goulielmos, Publisher and Ilias Karagiannis, Journalist Global CEO of Safilo Group
Eye Magazine sits down with Silhouette's Chief Marketing Officer, Michael Schmied, to discuss his ideas on how the eyewear industry needs to evolve, the company's goals in the coming years and the necessary steps to fulfill its sustainability aims.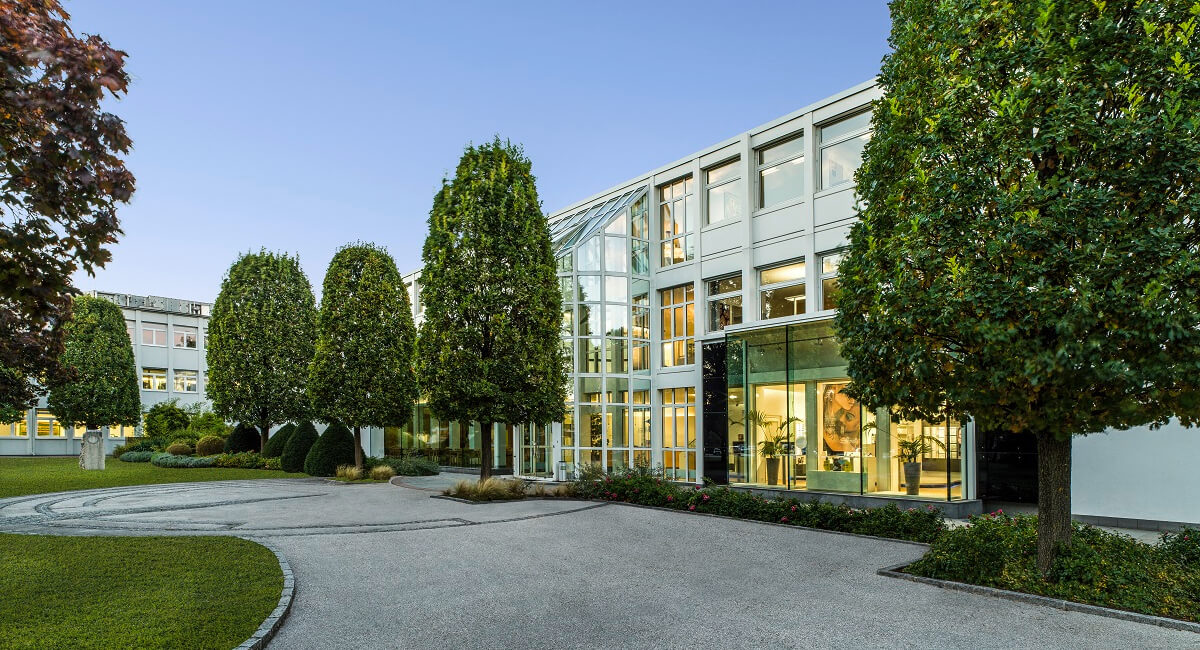 Thank you very much for the opportunity to meet with you during the Global Brand Conference (GBC) organized in Athens. Please tell us what this conference is, your expectations of the 2022 event, and why did you decide to organize it in Greece?
The GBC is an opportunity for us to inform all our partners about where we stand, what we have achieved together, and of course, even more importantly, where we are headed. We'll demonstrate new products, do product trainings, and, of course, talk about everything related to point of sale, merchandising and upcoming marketing initiatives.
We'll be demonstrating the new initiatives, showing what we need to do and how we need to work together. This is really about implementation. It's always a mixture of brand elements, including the product, the location and the sales element. And those are, of course, the most important pillars when we hold this kind of global conference.
During the two years of the pandemic, we had a lot of digital meetings and this was the format for our global brand conference. We've held it twice in a digital format. Now that we're coming back together for the first time, we said, "Okay, let's choose a really nice sunny place, but also let's give a shout out to our distributor partners, many of them are also family businesses. For the first time, let's go to a distributor country." It's more or less the first time that we'll be hosting outside of Austria. I think what we've been to Munich, which isn't too far away, and is one of our subsidiaries.
So, by hosting in a country of one of our distributors es, we're also signaling to our partners, as a family to come together whenever you can. And after two years, we really appreciate this opportunity. As we're a global company, we searched for a global metropolis.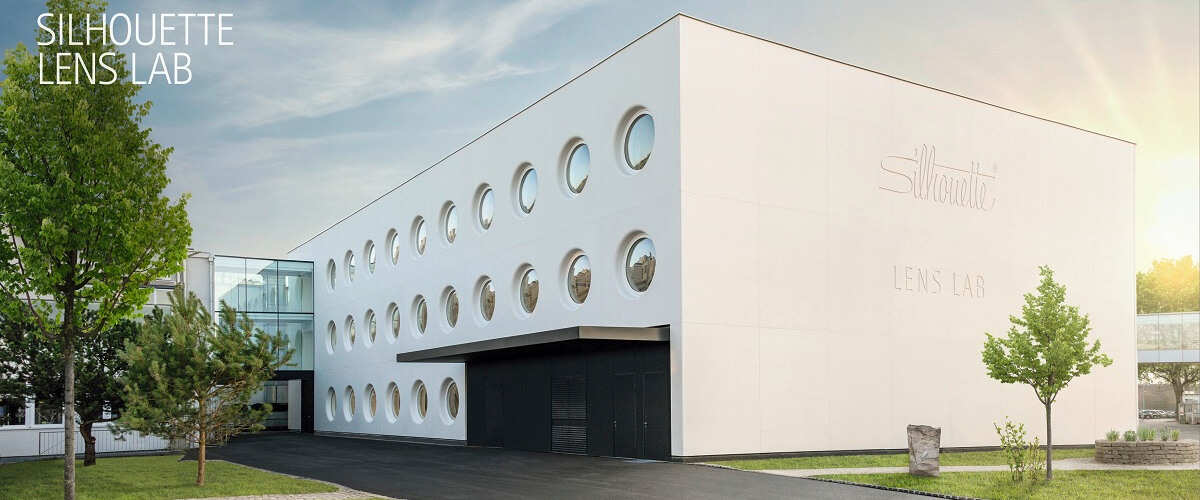 The business tagline of Silhouette is an… eye catcher. "Silhouette is the benchmark in premium eyewear". Could you share with our readers, the Greek opticians, why you say this and how Silhouette became the leading company in premium eyewear?
It was already within our founding fathers' DNA, so to speak. So, when my grandparents founded the company, it was always viewed as a given and it was always our target. Therefore, we're always very strict when it comes to quality issues. And of course, as you know, we are still producing in Austria, which is quite rare for products these days. The majority of the industry basically went to Asia. We always stay in Europe, and we truly believe in this quality.
It's not just about the quality either, but also the service and the aesthetics and everything else. This is about the full package. And of course, when you produce in Europe, you're 100% committed. You're focused on quality because there is no other way. And therefore, yes, when it comes to the benchmark, there is only one: to be number one in the industry when it comes to quality. We also have official ratings from our valued ECP partners in Germany and in Europe, as well as in the US, which are, of course, quite competitive markets.
If we take a look at the ECP ratings, which are professional ratings, when it comes to service and quality, we always rank first or second, and if it's a very bad year, third, but normally, we're first or second place within the whole industry. And of course, this is also the case for other aspects, including the aspect of design, for example. It's also been our focus since the outset. The company was founded with just five employees, one of whom was the designer, a lady at the time. Award-winning designs have always been at the heart of our brands and in their very DNA. And now, since we've been counting our design awards – I think we've been counting them for 20-25 years- this is also a benchmark in terms of outstanding design quality, which is, of course important for consumers.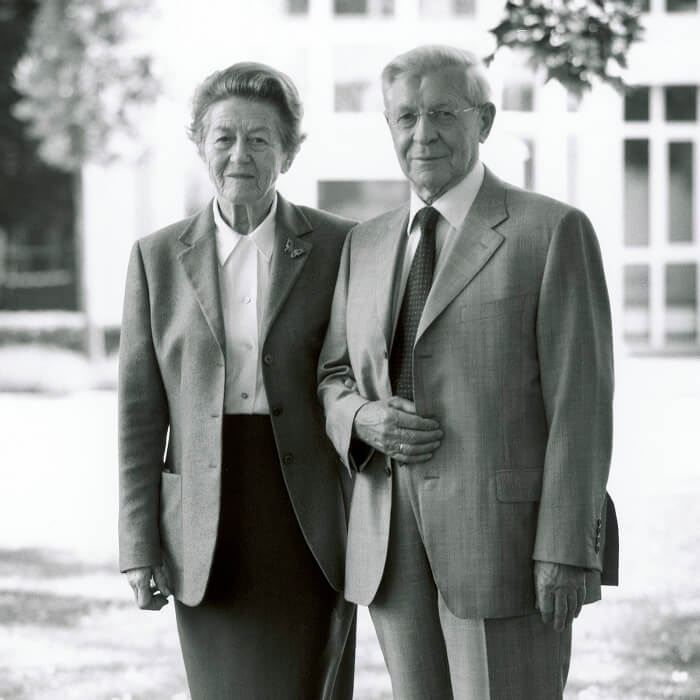 Founder Arnold and Anneliese Schmied
May you please tell us some ''inside'' information about Silhouette. An Austrian family business, created in 1964 that prospers for the last 58 years. What is your vision about Silhouette, where would you like Silhouette to be in the long term and which do you consider the key trends which will shape the world market of the optical industry in the next few years?
First of all, we are proud to be a third generation family business. And we also want to keep it that way and stay a family business. That's also an important value for us. Of course, the pandemic had its own dynamic. But we noticed in the market that there is also a dynamic of consolidation. Therefore, our target is that we really want to be the strongest and best premium partner for independent ECPs. We truly believe that there is value in a family business so that everything isn't tied up in big multinational companies.
We also believe that emotions, visions, philosophy and quality are in good hands with an independent business. Also, the structure of the Greek market contains a lot of independent businesses and we want to be the strongest partner for them. And therefore, we want to have a meaningful offer and when it comes to premium eyewear, we truly believe that we have one of the strongest offers.
Of course, I have to acknowledge that when it comes to rimless eyewear, we are the number one player globally. And this trend is coming back. So, if you take a look at festivals, like Coachella, we see that young people are wearing rimless eyewear. This represents a big opportunity for us because we are the experts in rimless eyewear.
But there's a big market out there, besides rimless eyewear, and the brand really takes strength from the core values, USPs and major benefits of what I would call the iconic products that we've created. And it's good for brands to have iconic products, because that really gives you the DNA that gives you credibility. And all those USPs and benefits have also been perfectly transferred over the past year or so to the rimless world. And we therefore see lots of potential for us here.
And that's also what we can offer the ECPs.
We really can engage many of our consumers with the brand within both segments. And we see very high numbers, obviously with the highest being from the US. That's a challenging market, as already mentioned, but could lead to consumer loyalty to the Silhouette brand. If you're an independent business in difficult times, as is the situation currently with inflation and economic issues, you want to go with brands you really trust, like Silhouette.
You want to sell a brand where you can make the end consumer really happy, because when the end consumer is happy, he/she comes back. I think we have a very strong offer for the future with all our qualitative aspects and end consumer engagement with the brands. We see huge potential for the future of the Silhouette brand.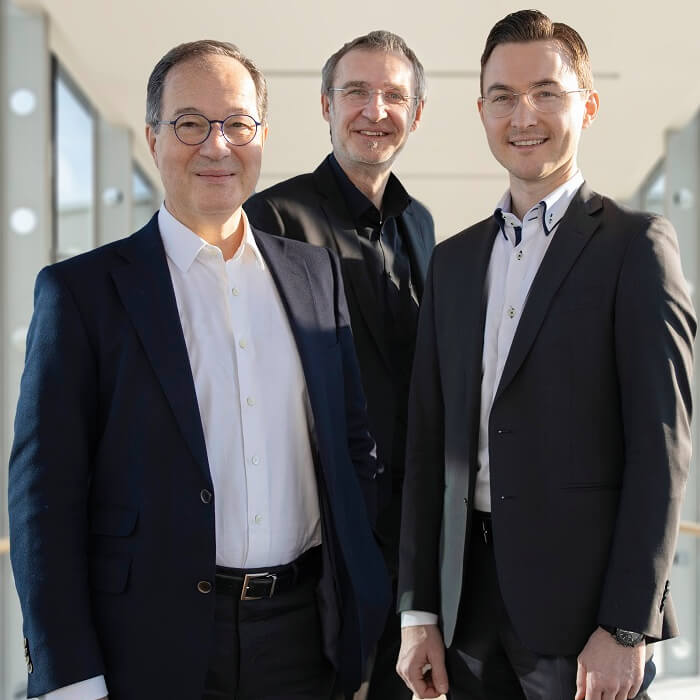 Silhouette Board of Directors
The last two years were very challenging for the companies worldwide. The pandemic, now the war in Ukraine and the supply chain disruptions, which caused general economic disruption and key commodity shortages were the key hurdles. How does Silhouette manage to cope in this environment and are you satisfied with the financial results that you achieved in the last couple of years?
We've been quite lucky. It was a very difficult time. But the whole team came together and managed it superbly. So yes, it was tricky. Also on the administrative side, every plan had to be revised monthly. But in the end, we've made the best of the pandemic. Our finances are solid. It was a truly outstanding time.
In terms of the future, we're experiencing uncertain times. But there's also an opportunity for us here, because in uncertain times, you tend to go to the brands where you see real value. And we're true eyewear specialists. We're not a fashion label, where the label and the brand comes last or at the last step in production. Our eyewear design is part of our DNA, and all the quality aspects and the service that we deliver to all countries is really outstanding.
Therefore, I think in uncertain times, you want to make decisions based on trust and security, and where you're getting high value for money. Because it's not the price that we're talking about, it's the value.
We're constantly working on increasing our value and therefore this is also an opportunity for us and for ECPs to provide a meaningful offer to the market and also to differentiate from some fashion labels who come and go, and maybe aren't the right choice in difficult times.
Our eyewear design is part of our DNA, and all the quality aspects and the service that we deliver to all countries is really outstanding
Achieving sustainable goals has become a guiding principle for companies around the world, which are using market dynamics to deliver sustainable solutions. Is sustainability a priority for Silhouette and what are you doing in order to win the trust of your customers in this field?
For us, sustainability is not a gray area. First of all, if you produce in Europe, and if you produce in Austria, the sustainability standards are non-negotiables, they're higher than anywhere else in the world. So that's the first thing every consumer needs to know.
Secondly, when you're located in Austria and more specifically in Linz, you're in the water protection area. This means we have to fulfill extremely high standards of sustainability. We truly believe in sustainability. As a member of the younger generation, I'm very happy with this topic.
Coming back after the pandemic is a big challenge. As a young person, I would hope that in five years' time sustainability is not a topic for positive contributions, but one that simply doesn't exist because it's become integral. That's the world we need to be in. It needs to be mandatory. In recent years, we've also worked a lot on our CO2 footprint. We now put several solar panels on our plants. This year, we have achieved CO2 – neutral certification (with compensation). This means that all our products are CO2 neutral.
Furthermore, we have already announced that we have the "EU Eco-Management and Audit Scheme" (EMAS) certificate. It's one of the strictest European certifications. And when it comes to sustainability standards, we're the only company in our area having this certification.
Indeed, we are the only company in Europe to hold this strict certification and we're also the only company globally to have this certificate. So, you can see we're doing a lot and this is really important for us as a sustainable future is the only way forward.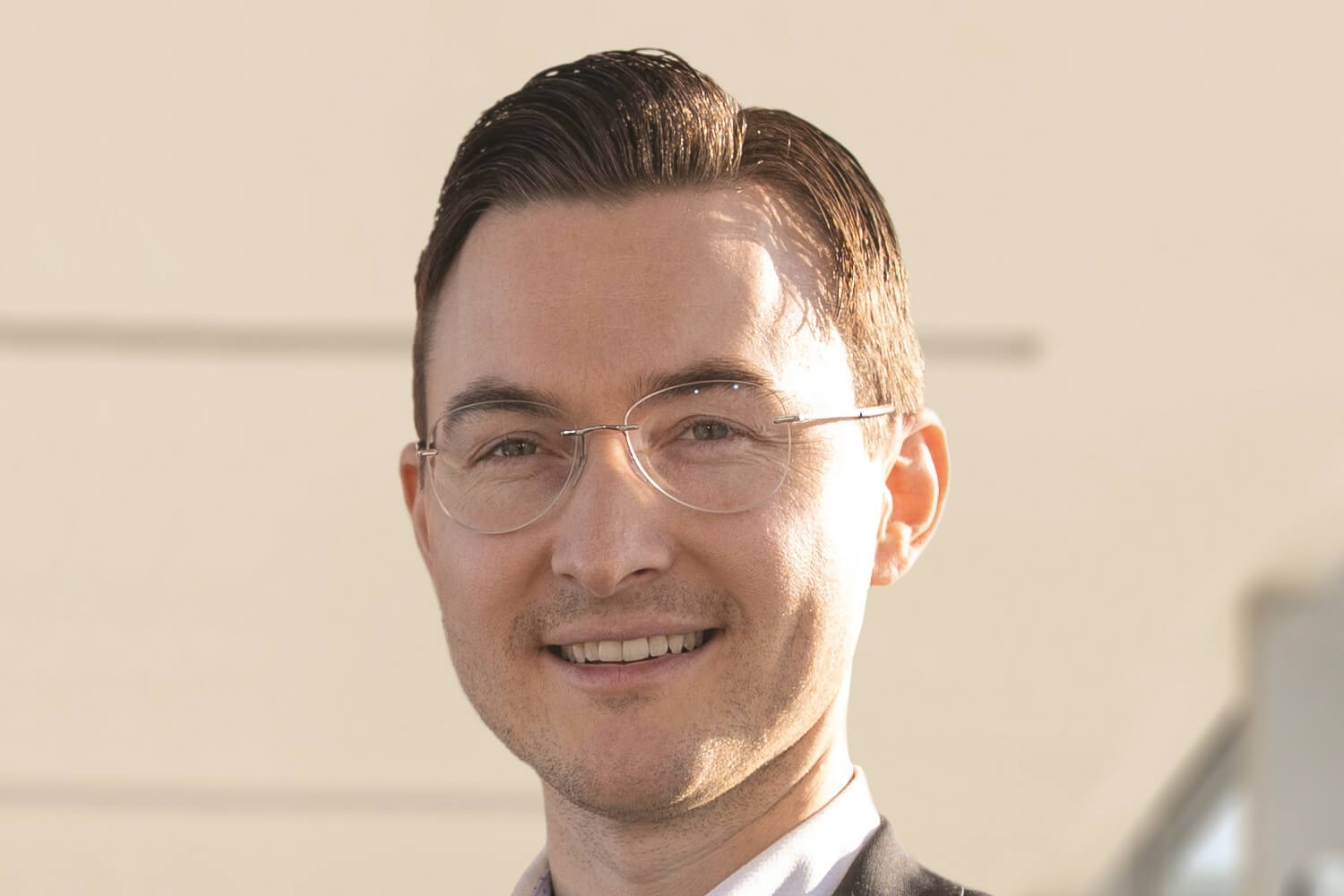 It's common ground that digital transformation is changing the way that companies conduct business. Companies must be attentive to the changing landscape of their industry. How significant is digital transformation for Silhouette and what are your actions so far in order to reap the benefits of that trend?
At Silhouette, we've made it our mission to play an active role in shaping the digital transformation. As pioneers in the eyewear industry, it's only natural that we continue to pave the way forward as an international technology leader by offering our customers a perfect digital service.
When it comes to digital, the sky is the limit for Silhouette. Ever since our company was founded in the 1960s, we have continually explored new solutions and innovations, always remaining ahead of our time. Our company has always been a pioneer in the eyewear industry, and now we also want to lead the way towards the digital future.
Change and staying agile are in our DNA. Which is why we can't wait to see what the digital future holds for us. Digitalization reaches from digitized production elements to sales aspects. For the latter, we have developed new digital tools that our sales representatives can use when they visit customers. Also, digitalization is a crucial aspect for our entore Social Media communication to engage with our end consumers.
Ten years ago, we had the first virtual try-on in the industry, making us a leader in this field
The consumer today demands interaction from the brands and wants to get information from them. It's up to us how we adjust within our organizations, how we serve our end consumers, talk with our partners and talk with our independent eye care professionals.
Ten years ago, we had the first virtual trial in the industry, making us a leader in this field. About two years ago, we had the second version of the virtual trial, where end consumers visited Silhouette's homepage and chose their optical eyewear and sunglasses. They tried them on via a virtual interface.
And then they were able to take a look in the store finder to find the products at their local ECP partners.
Furthermore, in some countries, we now implement a local concept. This is where you can choose the frames, send them to your local ECP for the full optical and glazing experience at the ECP partner and then buy the eyewear locally.
So that's another process now for our subsidiaries, which is quite good for consumer satisfaction. These are new business models, which we're trying out.
But if I may come back to the virtual trial, we see that around 100,000 people are trying on our products in the virtual environment every month.
And finally, of course, this virtual trial should lead to a physical trial. It doesn't matter at which ECP this gets done, as long as consumers experience the full emotion of Silhouette.
This is where they can feel the brand and experience the emotion. I think it creates a seamless customer journey.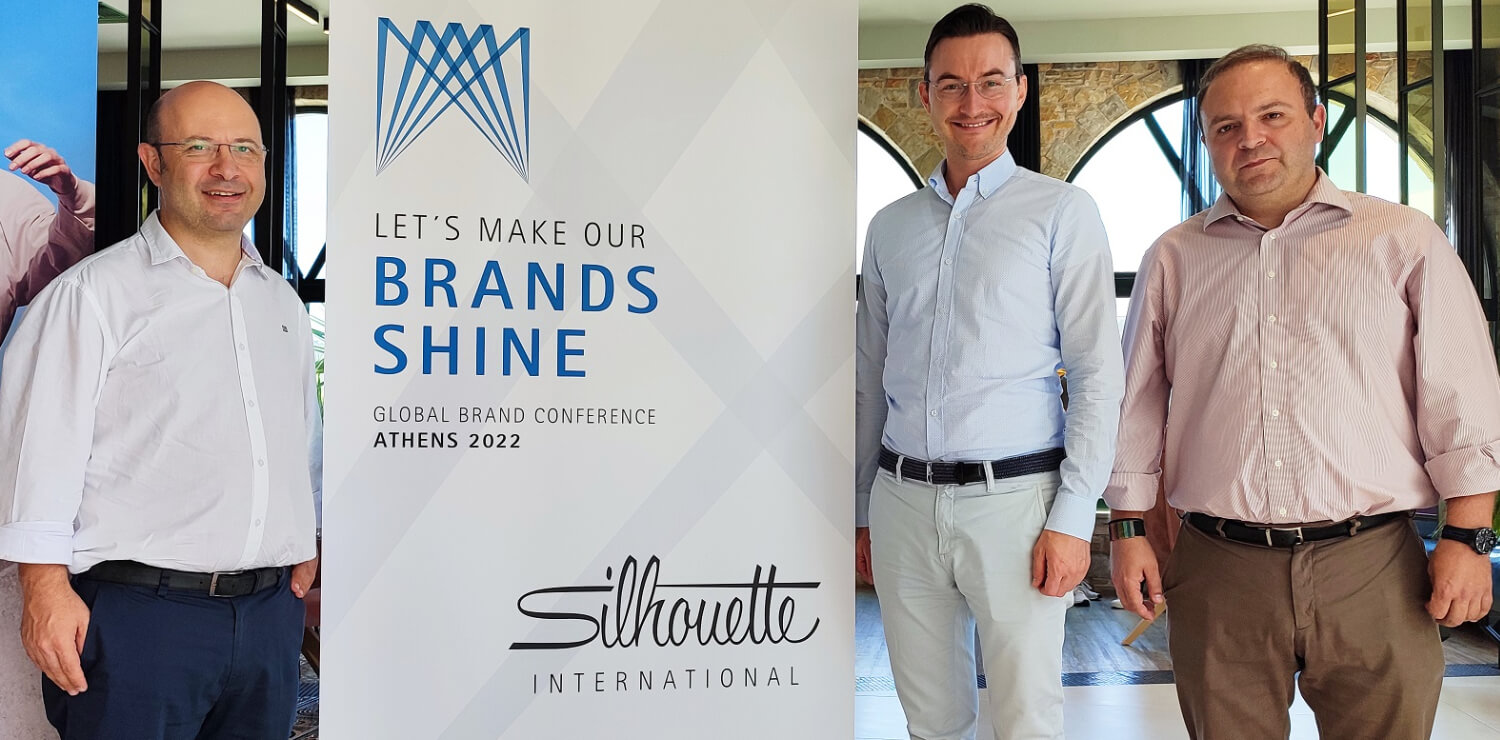 I should like to conclude this interview by asking about the Greek market and your presence here. Could you share with the opticians and readers of Eye Magazine your opinion on the Greek market, how you would compare it to other markets, your plans for Greece, and a bit about your collaboration with the Sicaras company?
Ilse Junger – International Sales Manager – FCC & Southern Europe:
You're totally right. Greek consumers are very conscious about what they want to wear on their face. They're very fashion driven and very conscious of what they wear. And in terms of spending money on premium eyewear, there's a lot of wealth in Greece. It's just a matter of making these wealthy people very aware of our brand.
And not only making them aware via social media, for instance, or via magazines, and a lot of advertising, but in particular via the experience at the point of sale. And here, I would like to move over to our highly valued partner, Sicaras, who are very conscious about our premium expectations as a brand.
Together with Sicaras, we were able to improve a rather depleted market that we used to have 6, 7, 8 years ago and bring it up to a level which is very much premium and really up to our expectations. Coming back to our collaboration and our development plans for the next couple of years, of course we see a lot of potential and currently we are very much looking into selective distribution.
So, we're really moving away from broad and very wide distribution to very selective, premium distribution. This is our vision and our expectation for the future. And together with the Sicaras Group, we hope to achieve this. There are a lot of aspects that need to be considered here. So, in terms of bringing customers over to Austria for really good experience events, to see our product, our factory, and also to bring a lot of inspiration to those ECPs once they are back in Greece, we do a lot with branding and generate a lot of excitement at the point of sale for our consumers, because for the time being, it's still the point of sale, that gives the greatest impact on the final buying decision. With the Sicaras Group, we have a perfect partner here. That's for sure.
Greek consumers are very conscious about what they want to wear on their face
Ilse Junger
Silhouette International Sales Manager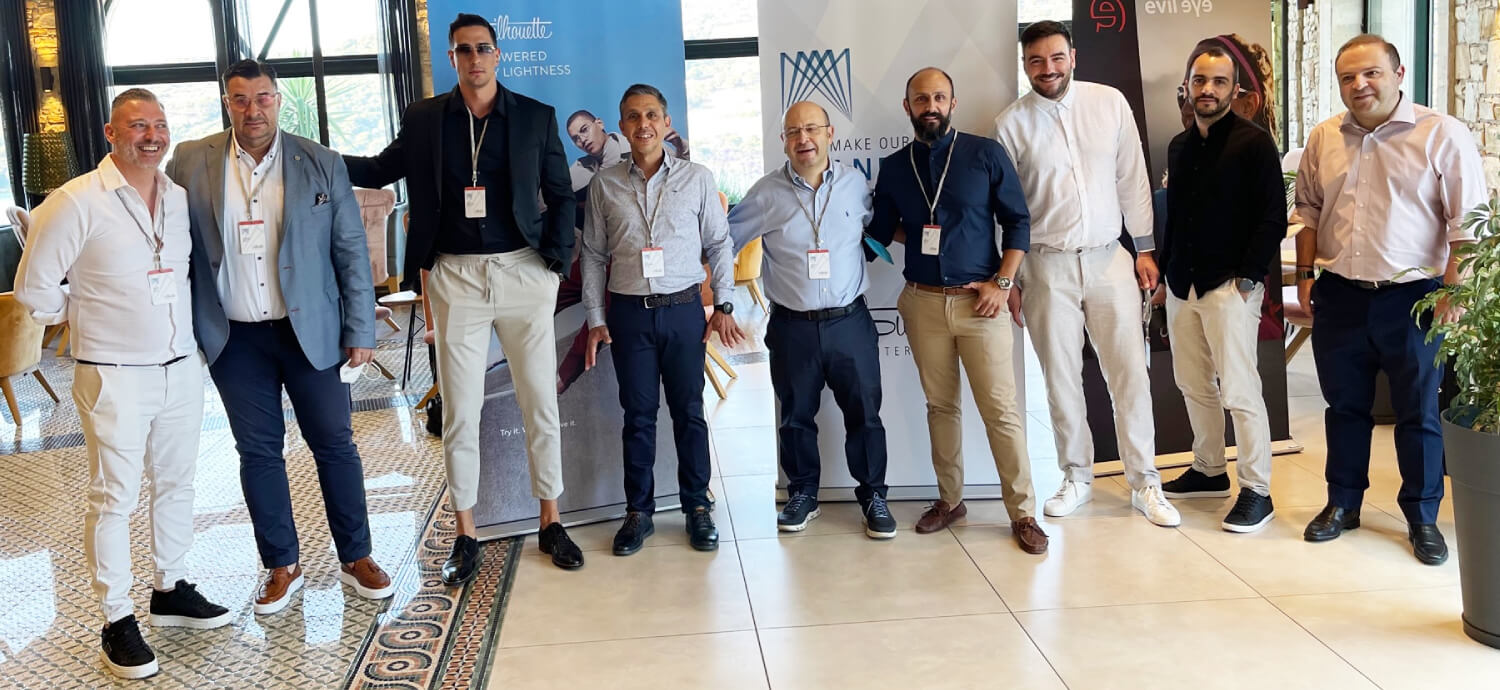 Panos Sicaras: Thank you for your remarks. We have a perfect partnership with Silhouette. I feel obliged to add that Silhouette is the benchmark for premium eyewear. Yet, Silhouette is also the benchmark for many, many things. Their services are top quality, the best in the industry. And they transformed the company from a family business established in 1964 to this company. I think this is remarkable. In the Sicaras Group, we feel privileged to work with Silhouette. We have been collaborating since 2017. We're linked with this company and of course, we see much more potential for the future.
Michael Schmied: Let me comment on a global level. Within our own subsidiaries, we've closed 4000 to 5000 accounts. So, we're really making concrete steps towards selective distribution. Why? Because it's really about the presentation of the brand in each store.
By presentation I mean two things:
The physical presentation, which is how the products are shown, how the display looks.
And then the mental presentation which means you need to be trained to enable you to engage all the people working with the brands. If you're not engaged with brands, you shouldn't work with them.
Therefore, this really comes down to each point of sale, but we need to check and then enable people to train people or partners. Because if you have a premium product, and if you want to sell at a premium price, you have a good margin, but you know, you need to be trained and you need to know the story.
That's our job on the sales side, so to speak, and it's important that we are fully aware of that. And therefore, we need to bring the right products, content and stories from the lens to marketing to the end consumer.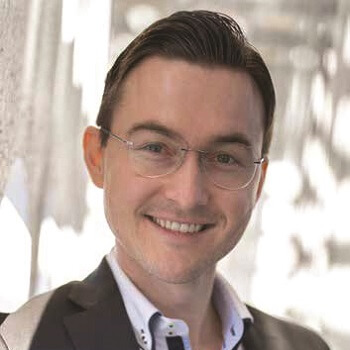 Michael Schmied
Michael Schmied joined Silhouette's management board as CMO in 2019. He has overall responsibility for the brands Silhouette and evil eye, as well as for Silhouette Vision Sensation®. He also oversees design, corporate PR, and communications. Before joining the board, he gained several years of experience working as a brand director and product manager at Silhouette. He also built up valuable marketing experience at the medium-sized and family-owned world leading organic baby food manufacturer. Michael's appointment to the board passes on the baton to a third generation and continues Silhouette International's legacy as a successful family business.

Silhouette – Iconic Eyewear made in Austria.
Exceptional aesthetic often arises from the combination of two seemingly opposing poles. Silhouette eyewear has always succeeded in mastering this art: achieving unparalleled lightness through inner strength; remaining true to itself and constantly setting new impulses; creating timeless design that also meets the spirit of the age. Here in Austria, we have a long tradition of producing classic and innovative eyewear that goes right back to 1964. Our production philosophy – with its craftsmanship and emphasis on manual work – is akin to that of a cottage industry. The result is unique eyewear that will delight and surprise you in terms of its innovation. Excellent design and high-quality materials create a clarity of design that expresses the individuality of the people who wear it. Because you are unique.
Innovation Silhouette has revolutionized the world of eyewear with the world's lightest glasses. Extremely high standards of workmanship and the use of the latest materials and production techniques enable us to create new and innovative products.
Passion From the very outset, Silhouette has always pursued a vision that still holds true today: creating the most beautiful eyewear in the world. We put our heart and soul into our work to turn this vision into reality.
Individuality Unlimited possibilities in terms of shape, color and design express what makes a pair of Silhouette eyewear unique: your personality.
Lightness Innovative materials and purist design define the unmistakable lightness of our eyewear. See it and feel it.
Creating design Silhouette eyewear stands for classic design, which is also in tune with the spirit of the age. We aim for clarity, which will bring out your personality in all its facets.
Made in Austria We have been making eyewear in Austria since 1964. This is how we guarantee high quality and exquisite workmanship using the finest materials, ensuring that when it comes to comfort our eyewear is second to none.

Next Post